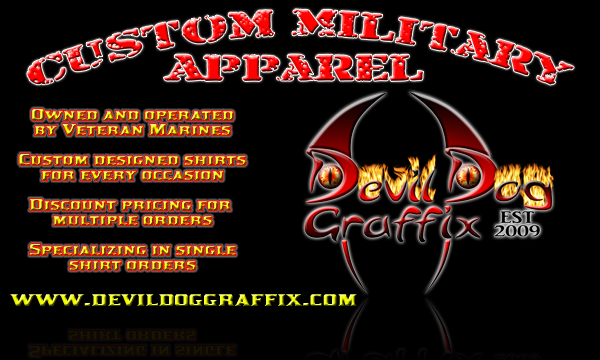 Welcome to Devil Dog Graffix. We specialize in Custom made t-shirts and other apparel for any occasion. Devil Dog Graffix was founded by 2 Marines. We are a small business that simply wants to show support for our troops fighting for our Country.
Our designs are geared towards the Military and families of the Military but we will custom make any design for your special needs. We have done many "Welcome Home" designs for our troops returning home. These have been a big hit with families to show their support for their family members returning from the war.
We are a big supporter of our troops and will do anything to help show our support. I am a Persian Gulf War Vet and a Marine from 89-00. I held the rank of Sgt and the MOS's of 0331/1371.
You should be proud to know that your shirts are being produced by a strong supporter of our troops and a fellow Marine. Thanks for checking us out and Semper Fi.
Sgt "A" Devil Dog Graffix
USMC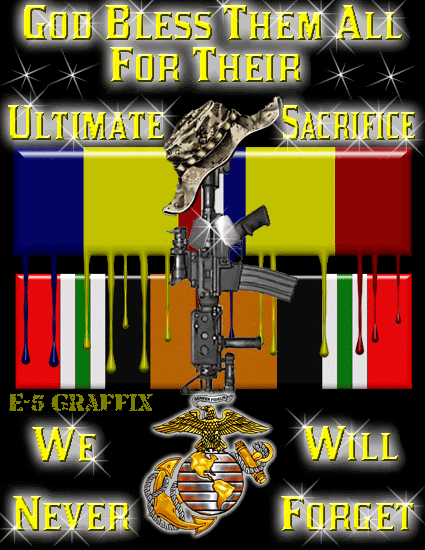 Combat Vet Design

This design has the Combat Action Ribbon set in the background with the Eagle, Globe and Anchor. Ribbon reads on top "USMC" and on bottom "Marines".

Price : $16.00

3 Skulls in Red/Black with "Bragging Rights...I'm A Marine Dad".

Bragging Rights for our Marine Dads shirt. Wear this shirt proudly. 3 Skulls done in Red/Black with Quote. Semper Fi Dads, keep looking back for more new designs. OOH-RAH!!!

Price : $16.00

Iron Cross w/CAR and Iraq ribbon with Desert Digital and EGA.

This is the Iron Cross Design. It has the Iraq Ribbon on top with the Combat Action Ribbon on the bottom. The sides are Digital Camo with the Eagle, Globe and Anchor.

Price : $16.00

Force Recon Swift, Silent, Deadly design with flame background.

Traditional Force Recon Design with a flame background and the EGA on the forhead of the Skull. EGA on front with "Force Recon"

Price : $17.00

Through The Gates of Hell, A Marine Is Born.

Price : $16.00

My Heart Belongs To A Marine

My Heart Belongs To A Marine Design. Has a Heart as the Globe. This is perfect for that Wife or Girlfriend.

Price : $16.00

MOM Design with the Globe from the EGA as the "O".

This MOM design is one of our best sellers. American flag set into each of the "M"s and the Globe from the EGA as the "O" to spell out "MOM". Under reads, "Mother of a Marine". Same design reduced and placed on the Left Breast.

Price : $18.00

Where Would You Like The 8 Ball?

Black shirt with a skull and 8 ball cracking through. Saying, "Where Would You Like The 8 Ball?". We can change the saying if you would like or add a team name. Email me for details and I can do it without any extra charge.

Price : $19.00

My Mind Game, Lets Play on Black Shirt

Black Shirt with Glowing Green Skull with 8 Ball eyes. "My Mind Game, Lets Play"

Price : $19.00

Mess With The Best, Die Like The Rest Night Vision Design

Night Vision Design with Digital Skull and Boonie. "Mess With The Best, Die Like The Rest"

Price : $19.00